honeymoon in switzerland
march 2000

our wedding was scheduled for march 18, 2000 and initially we had thought about different options for a honeymoon. option one was to take no honeymoon at all, but take the week off work, stay home with the animals and do nothing. option two was to go somewhere close - somewhere within driving distance like door county in wisconsin or the upper peninsula of michigan where we could rent a cottage and relax in a small town near the water. option three was to fly somewhere and we had thought about such destinations as arizona, california or the florida keys, where we had such a great vacation the year before.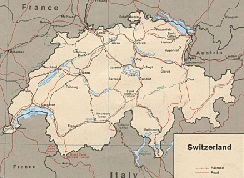 option four presented itself completely unexpectedly and totally on the spur of the moment, when we found an unbelievable fare to switzerland rivalling the fares we had researched to destinations inside the US. tracy and I had gone to lunch one day, about a month and half before the wedding, and she casually mentioned that she had seen a price on swiss air that was to die for and that expired that day at 5pm. when she told me how much, I immediately called michael at work and said "let's go to switzerland". an hour later, our tickets were ordered, arrangements were made for passports and we were on our way!
switzerland is a tiny country nestled between france on the west, germany on the north, austria on the east, and italy on the south. it does not have a native language that is spoken frequently, rather the different regions take on the language of the nearest bordering country. hence, german is spoken in the north and northeast, italian on the south and french in the west.
about a month before the trip, we had spent quite a few hours with our friend, tracy, and a stack of swiss maps and travel guides. tracy had spent quality years in switzerland and so had a general idea of the high points we should not miss. thus, we headed to switzerland with nothing in our possession save a rail pass for two and a vague loop of cities to traverse as the fancy struck us. (warning! this is safe to do in the off-season, such as march, when we went. do not attempt such a trip during the tourist season as many affordable rooms will be unavailable and/or priced out of reach for most regular working people like us.)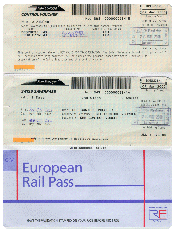 the trains were clean, prompt and efficient. we found throughout our stay and many train rides that switzerland is superior in maintenance of their rail system. we had elected to purchase a swiss rail pass for two, rather than rent a car and deal with the hassle of foreign maps and european road customs. we were very happy with our decision from day one and had great experiences all the way through the end of our vacation.
the exchange rate when we were there was SF1.25 to US$1, so the cost of the vacation would be approximate to spending a week in downtown chicago, given hotel and meal prices. we were due to leave the day after our morning wedding and lunch reception, around 4pm on sunday, march 19, 2000.
we recommend if you are planning a european tour like ours, especially one as short as ours (one week), do not over pack! we took a backpack and a large duffle bag and it was too much. probably one backpack for each of us would have been sufficient. it was our honeymoon and we wanted to have clothes to dress nice and to hike in, but we brought at least twice as much as we needed. this necessitated a lot of lugging that could have been avoided. luckily, most of the train stations have solid lockers available for rent (SF2) where we were able to stash the large duffle. it ended up stashed more than it was used.
the M & L show in switzerland

---

day one & two - we arrived in zurich 7am and rode the swiss rail to luzern, arriving 9am. slept, ate, and slept. we spent day two exploring luzern and sampling the local cuisine.
{ photos }
day three - we arrived in bern in the morning and travelled to friborg in the afternoon to check out the cathedrals. for dinner, we had our first taste of swiss fondue (yummy).
{ story }
day four - we headed to lausanne in the morning, had lunch on misty lake geneva, then visited the chateau de chillon at montreux in the afternoon.
{ photos }
day five & six - the evening after the visit to the chateau was spent having dinner on the train headed to zermatt, a swiss ski town nestled in the heart of the alps. there we came face to face with the matterhorn, one of the most distinctive features of zermatt.
{ photos }
day seven - after spying an intriguing castle on the top of a hill from the train on the way to zermatt two days earlier, we decided to double back and spend the day in sion to see what we would find.
{ photos }
day eight - zurich am & flight to chicago pm
switzerland honeymoon photo album