honeymoon in switzerland
day seven - sion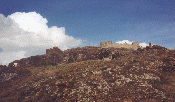 when riding the train from montreux (day four) through brig and visp to zermatt (where we spent day five and six), michael and I had spotted what appeared to be a very interesting castle as we sped through the town of sion, in the canton of valais. after spending two days in zermatt, we decided that rather than head east to andrematt as we had tentatively planned to complete our loop to zurich on our last day in switzerland, we would instead double back and investigate the castle on the hill.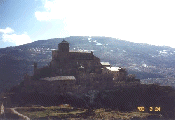 michael had wanted very much to see castles on our honeymoon. we were totally excited with what we found when we arrived in sion - not one but three imposing stone structures, two of which we were able to enter and explore at our leisure.
we spent the entire day hiking the area, snapping pictures and lunching on a grassy knoll between two of the castles. we had a fabulous day, then completed the rail loop by travelling back to lucerne and readying ourselves to head to the zurich airport by morning (little did we realize that it was daylight savings time and we almost missed our flight by an hour - whew!) we were glad that we did not miss the castles of sion.
| | |
| --- | --- |
| | laura posing for a photograph with the castle in valais (near sion). it is known as "le château de tourbillon." |
| | michael hiking toward le château de tourbillon carrying the llbean backpack loaded with bottled water, bread, wine and cheese. it was about 65 degrees, bright and sunny. we were wishing that we were wearing shorts! |
| | across the way from the tourbillon castle was "le château de valère" which had its own cathedral. this is the entry door to the cathedral, which unfortunately does not open for the summer until april or may. |
| | I could picture michael as a knight back in the days when the castle was new as he stood in the tower window. |
| | this is the unbelievable view of the valley outside of valais. the alps and the matterhorn can be seen in the far background. |
| | laura in her cool glasses and swiss kerchief. |
| | michael lounging post-lunch on the hillside. |
| | the canton of valais is a huge wine producer. the landscape of valais is a checkerboard of vineyards as far as the eye can see. |
| | michael took this great shot of laura standing on a ledge, putting a great perspective on the landscape of the area. |
| | enjoying our picnic on the hillside near "le château de valère." |