honeymoon in switzerland
day three - bern and friborg
tracy had told us that the bernese mittelland - an area of hills, rivers and winding valleys which lies between the alps and the jura mountain systems - was beautiful, so we had planned a route directly through it. we left on the train from luzern at 9am and headed southwest towards bern and friborg. we already knew that bern was a large city and we weren't very interested in staying there overnight; we were more interested in getting into the french section of switzerland and heading to friborg for our accomodations that evening. tracy had also told us that both bern and friborg had some great cathedrals that should not be missed. we figured this was as good a chance as any to see if cathedrals were something we would be interested in touring the rest of the trip.
the two-hour train ride offered a excellent way to experience the scenic beauty of the bernese mittelland. it was a beautiful, warm and sunny day once again (every day so far!) and we noted again how comfortable and convenient the trains were. we watched the green, rolling landscape go by and noticed that most of the valley was agricultural - lots of gardens and cows and sheep grazing peacefully in small meadows, surrounded by typical swiss chalet-type houses. even the smallest domicile had a patch of well-kept garden nearby for growing vegetables and flowers and a goat or two. the alps were of course magnificent, although far away and in the background as of yet. we weren't scheduled to head into the alpine region until later in the week but we enjoyed the view that we had of them meanwhile.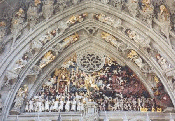 we arrived in bern around 10am and stashed our largest luggage at the train station lockers. these are super-convenient, having a small fee (SF2) and self-service. we continued to use them religiously all along our route. we carried just one backpack between us, with our essentials like passports, ID, camera, and water bottle and headed into town. we picked up a map as soon as we found one and planned to head to the large park in the middle of the city which also featured the largest and oldest cathedral in town.
we walked through the city and found it disappointing. most of the city seemed to be hit by the usual plague as cities in the states - too many shopping "malls", dirty, too much garbage, too much "fast food" and the like. we headed to the park near the cathedral; it was lovely but filled with what we could only discern to be drug addicts and hippies hanging out because they had nowhere else to go. the cathedral was huge, and old (built sometime in the 1400's) but it was closed and undergoing a drastic renovation which meant it could be viewed only from the outside. some of the residences behind the cathedral and park were interesting - little swiss two-flats and three-flats and all with extravagent verandas for yards where vines and vegetables could be seen growing.
we stopped for lunch at a very busy town square and picked up take-out chinese food. we took it to another, much cleaner and nicer park in the middle of the city near the river and sat on a park bench in the sun and had a nice meal. we walked back to the town square and got a table for two under a tree at a little cafe/restaurant. the place was mobbed and everyone was crammed into the town square, with people sitting on the sidewalk and the sitting areas munching on the contents of their brown bags. we had a couple of beers and decided to move on to friborg as soon as we grew bored of drinking beer in the sun.
after a couple of hours, we hopped back on the train and headed to friborg. it was getting to be late afternoon and we were pretty grumpy after the early beers and semi-disappointing visit to bern. we were able to find a hotel near the train from one of our visitor's guides. the hotel looked like it might be close to the downtown area and the cathedrals that I was determined to at least get a look at later in the evening. we located the hotel in the warren of narrow cobblestone streets and became very excited when greeted with a cheerful "bon jour"! - finally we had arrived in the french section of switzerland.
we settled our things into the room, which had french windows overlooking the cobblestone street below, took a little nap and then got up to head to dinner. tracy had raved about the swiss fondue in friborg and since we were in a french neighborhood, we postulated that we might find it nearby. we weren't wrong. only two blocks away we came upon a cute little late-night fondue cafe and made our way to a tiny table for two. it was a wonderful meal; a huge pot of piping hot cheese and plenty of crusty european bread to dip into it using a long, two-pronged fork. we gorged ourselves on cheese and bread then accidentally ordered two desserts of strawberries and heavy swiss cream (laura fancies that she can speak french; she meant to order only one dessert to split with michael).
dinner over, we headed into friborg for nighttime sight-seeing and did get to see two local cathedrals. we explored the cobbled streets and looked in the windows of all of the shops before finally heading back to our hotel to sleep off our huge evening consumption.