honeymoon in switzerland
day four - lausanne and montreux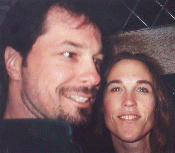 we got up early in friborg and hopped on the first train to lausanne. this was a planned stop in the french section of switzerland - tracy had really liked this city and so we were anxious to see it. for the first time on this trip, the weather was less than perfect. it was a little chilly, drizzly and quite foggy and remained so for the rest of the day.
the first thing we noticed on the way to lausanne were the acres upon acres of vineyards covering the rolling hillsides in every direction. while not a large export product for switzerland, a seemingly huge amount of property in the western portion of switzerland is dedicated to producing red wine, which we sampled liberally throughout the rest of the trip. the checkerboard pattern of the landscape, the snow-capped mountains in the background, the rolling hillsides and the sight of mist-covered mountains framing lake geneva as we rounded the last bend into lausanne created a wonderful anticipation of what we would find in the area.
I took a seat next to the lake to rest while michael investigated the park, looking for someplace to get lunch. way out in the lake was a small, lone boat with two fisherman. the alps rose above the lake toward the south. it was incredibly quiet - we seemed to be the only people in the park.

the walkway in the park was deserted, but the buildings just outside belied the possibility that there was a workaday hubbub nearby.
laura walking through the lausanne park. it was only about 50 degrees and very foggy this day.

michael wanted more than anything to tour some castles while we were in switzerland. he had successfully located one of the most popular castles in the country, the chateau de chillon, on the shore of lake geneva in montreux, only 30 minutes from lausanne. after a lunch of a huge crock of mussels and a pint of swiss red wine, we ventured to the chateau planning to spending a few hours exploring.

the sight of the castle against the backdrop of the foggy lake and mountains beyond was very impressive.
the castle has been restored and furnished to much of its past glory. here, the flags of the canton and switzerland fly from the rooftops of the towers.
these are the walkways just inside the castle walls. all along the wall are found holes through which weapons such as cannons were fired at enemies.
this is the courtyard of the castle, an area outdoors surrounded by all of the buildings that make up the castle.
the fireplaces in old castles are very, very large.
laura standing inside the fireplace to give some perspective on the relative size of fireplace to persons.
as part of the restoration, the castle is a museum of sorts and has all sorts of items such as these suits of armor on display.