our pets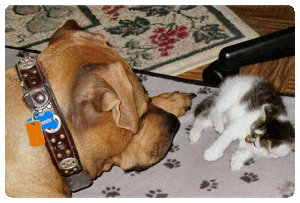 we love animals and have our fair share of pets.
we moved to a small acreage horse property in june 2005 in order to expand our animal population: in july 2013 we count two cats, two dogs and six horses.
sadly, over the course of eight years on the farm, we have had several members of our feline and equine family come and go.
many of those loved pets were added to the family and were lost between the last time we updated the web site in 2003 and july 2013. this is, unfortunately, one of the sad realities of farm life.
eventing, dressage, fox hunting, trail riding, endurance, mounted games - is there anything our horses can't do? visit our prairie corner farm web site and meet the herd.
our dogs
we have two rescue dogs - one black (2004) and one brown (2010.) our black female is very bossy and daddy's favorite girl. our brown male is totally submissive and a momma's boy.
our cats
(sept 2013) we have recently lost another, much too young to be gone, cat. we are very seriously rethinking allowing cats to be outside ... we will be fortifying our property against predators, providing more secure hiding for cats who ~must~ be out (Agent), building a screened, enclosed porch on our back deck (for cats who want to be out in the sun during the day unattended), and implement a very strict "when I go in, you go in" cat policy from here forward. Laura cannot handle the loss of another young cat.
in memory of lost pets.

wicked (barn cat) and penny!penny!penny! (in/out housecat)

penny and wicked were both brought home as barn cats and both lost very young. the world is a very dangerous place for cats, especially the wide-open spaces of horse property. we are no longer considering allowing cats to live in the barn or be allowed outdoors without an attendant.

ares (say it like "aries", but spelled "ares" after the greek god of war) was my best friend and constant companion since 1988. ares passed in may 2004 at sixteen years of old age. see my tribute to ares' life here. in his own words, it's ares.

murphie was michael's dog and she knew it. at 14 (in 2001), she was as willful and crotchety as any woman would be at her age. she spent her days sleeping and nagging at ares - all in all, a pretty good life.

jerry was a humane society gift for my 1992 birthday, when he was only one year old. he was large, fat and loved to be where the people are. as an adult cat, he decided that he was a dog and happily tagged along where-ever ares, murph and michael went.

dillon was a new addition to the family the summer of 1998, when our pet hamster joanna died. laura spent an inordinate amount of time feeding, cuddling, washing and trimming the little beast while the girls (for whom he was purchased) generally ignored him. he was re-homed to a family friend and enjoyed being totally spoiled until he passed of bladder complications.