jerry the tabby cat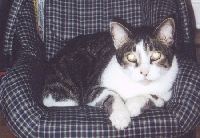 this is jerry. michael says that he is a very screwed up kitty.
this is because jerry is sure that he is a dog. jerry comes when he is called and likes to go for walks with michael and the dogs. he wants more than anything to be where the people are - on your lap is best but your feet or head will do just as nicely.
jerry will lead you down into the basement as soon as you get out of bed. "hey, come and take a look at my bowl". even though his bowl may be full of food, you must look into it and shake the food around before he is satisfied and will let you leave.
jerry's new veterinarian was very impressed with jerry's girth, remarking "you don't miss many meals, do you?". jerry weighs more than 16 pounds. he is a very fat kitty.
{ back to pets }