dillon the guinea pig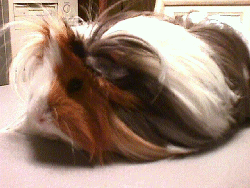 the piglet likes to eat:
strawberries (mmm! his favorite)
strawberry jelly & toast
romaine lettuce
timothy hay
alfalfa cubes
fancy guinea pig food (with dried veggies and fruits)
jelly belly jelly beans (but they get stuck on his teeth)
oranges (just a taste, thank you)
apple slices
piglet lives in the basement in a very nice cage near laura's desk. he loves to be brought upstairs into the sister's room to hang out on the blue clues chairs and be petted.
dillon doesn't squeak a lot but when he does you know it.
piglet photo album
{ back to pets }