murphie the chow-chow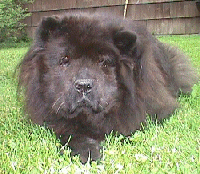 this is murphie. she is a chow-chow. she is about 14 years old.
she is very difficult to take a picture of because she is jet black. she does not like to stand still for a photo either.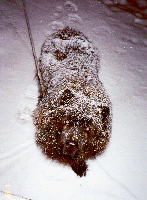 murphie loves to be outside, especially in the winter. spends most of her evenings going in and out, in and out, in and out. michael caters to her every whim and she loves it.
when she is not going in and out, she is standing at the door to whatever room ares wants to go into, growling, barking and snarling at him. he looks at her, yawns and waits until she is done. then he walks by her. just as he goes past, murph wheels around and snaps her teeth towards his butt. ares completely ignores her. I think they enjoy these little interactions.

murphie passed away suddenly on february 12, 2001 after a short illness.
we love you murph and will see you again, at the rainbow bridge!
{ back to pets }