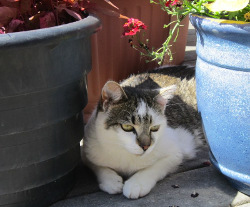 Penny! Penny! Penny!
May 2012 - Sept 20 2013
Goodbye, Penny!
A beautiful cat who left us much, much too soon.
Sweet Penny! came to us by happy surprise one fine spring morning May 2012. We weren't looking for a kitten or a cat or even another pet. But we had just lost our Junior pony and Laura was very sad and felt like she needed something to cuddle.
We brought Penny! home and found quickly that cuddling was not on her agenda. Neither were purring or sitting on laps or being petted. From the first day that Penny! came to live with us she was a mini-mutt and not a cat.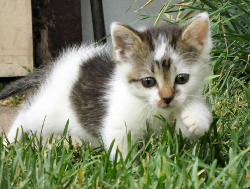 Penny! was only five weeks old and the cutest bundle of white and gray fur Laura had ever seen. Penny! visited the barn quite frequently but never on her own and needed to be carried from the barn to the house and vice versa. It was clear from very early on that Penny! was not going to be a barn cat.
For a year and a half, a very short life, Laura enjoyed Penny's company everywhere she went. Penny would follow Roscoe, who was following Laura and so Penny became Laura's shadow as well. Penny spent the great majority of her time in the house and adventured outside more frequently only in the summer when the days were longer.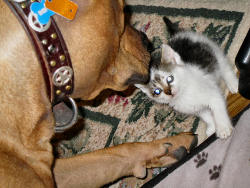 From the first day that Penny! entered our life, she was part of the dog pack: Daisy and Roscoe. While Roscoe was the one who worshipped the ground that Penny! walked on, Penny had a special "thing" for Daisy. Daisy pretended not to notice but where-ever she was, Penny! wanted to be there, too. Whatever Daisy did, Penny! wanted to do, too. Penny! would go outside and come back inside with Daisy for every potty break and while bounding up the path with the dogs from the barn to the house would determinedly get in her way and force Daisy to change her path to avoid stepping on her. I think they both liked the game.
Penny's routine was to follow the dogs in and out on their four-times daily yard ritual with Michael and to tag along with Laura in the garden whenever she was out. Daddy called Penny his little "hoofie-kins" because for whatever reason, she liked to walk on his feet and weave herself between his legs while they were out in the yard with the dogs.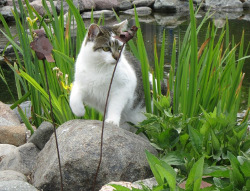 In the spring of 2013, Laura picked up her gardening habit again and it was this activity that Penny! enjoyed more than any other. Penny loved the pond and the plants especially the mint and she loved to lay on the potting bench in the garden shed while Laura went in and out filling bird feeders or retrieving tools.
In the house, Penny! had a strange fascination with getting into the clothes dryer and lying in there while we tried to do the laundry. She had a funny relationship with little plastic things shaped like cups - she would play with them on the smooth floor of the bathroom for hours (see video.)
Penny! and her cuppy
Penny died in the early fall of 2013 when she was left outside too late in the dark and she was taken by predators. The entire family was broken-hearted and Laura took it especially hard. Shock, guilt, anger, and extreme sadness were painful reminders of the loss of a beautiful and much loved family member.
Penny! this goodbye is far too soon. Mommy loves you and remembers well the smell of your soft fur as she held you in her arms every morning, to snuggle you and kiss your little feet against your will.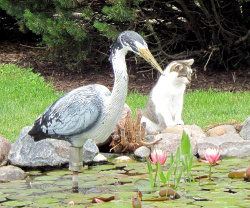 Goodbye for now, my little angel - I hope you have found our angels Wicked, Junior, Lucy, Ares and the rest of our animal family who are all waiting for us at the Rainbow Bridge. Join with them, romp and enjoy and we will see you soon - but not yet. Kiss, kiss my little girl - Mommy is so very sad.



Remember Our Love

I was chosen today
I'm learning to fly
the world took me away,
but please don't you cry

And I chose you today
to try and be strong
so please don't you cry
and don't say that I'm gone

When you're feeling alone
just remember our love,
I'm up near the stars
looking down from above.

Remember our love
In a moment you'll see
that I'm still here beside you
when you're thinking of me.

--Julie Epp--
We have created a ridiculously large collection of photos of Penny! on Google for this memorial.
In mid-October we buried Penny! in the garden, near her favorite maple tree under the mint that she loved so much. She is covered by a memorial rock with her name engraved on it. This garden is now known as "Penny's Garden".

This is the reading we did for her when she was buried and her rock placed.




Not Stand at My Grave and Weep

Do not stand at my grave and weep;
I am not there, I do not sleep.
I am a thousand winds that blow.
I am the diamond glints on snow.
I am the sunlight on ripened grain.
I am the gentle autumn rain.
When you awaken in the morning's hush
I am the swift uplifting rush
Of quiet birds in circled flight.
I am the soft stars that shine at night.
Do not stand at my grave and cry;
I am not there, I did not die. - Mary Elizabeth Frye 1932
{ back to pets }