Wicked: Spring 2008 - Dec 22, 2010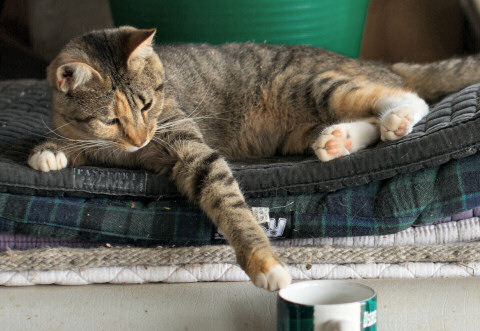 Three days before Christmas in 2010 we lost our little friend Wicked.
Wicked, Ms. Wickens, Wickie - lots of names for a little girl.
Always mute never a meow, never a purr, never a sqeak but we knew when she was happy by the way she'd throw herself over on her side and roll enthusiastically back and forth on her back, rubbing her head and then looking at you like "Let's Pet!!"
Her favorite time of the day was night feeding time when I would sit in the run-in to babysit Junior the pony while he'd eat his grain and Wickie would get her "special lap time". She'd curl into a tight, twisty ball on my lap and continuously roll and squirm with pleasure for 30 minutes while I'd pet her all over and talk to her about all of the things that might be on my mind.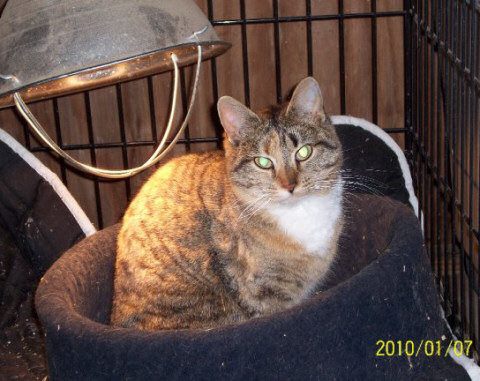 In winter she loved her warming lamp in the barn and spent most of her time under it. She had been a sickly girl when she came to us and always had a delicate composition. I still have no idea why she left the barn to follow me into the garage that night ... :-(
Four Feet in Heaven

Your favorite chair is vacant now...
No eager purrs to greet me.
No softly padded paws to run
Ecstatically to meet me.

No coaxing rubs, no plaintive cry
Will say it's time for feeding.
I've put away your bowl, and all
The things you won't be needing;

But I will miss you little friend,
For I could never measure
The happiness you brought me,
The comfort and the pleasure.

And since God put you here to share
In earthly joy and sorrow;
I'm sure there'll be a place for you
In Heaven's bright tomorrow...

by Alice E. Chase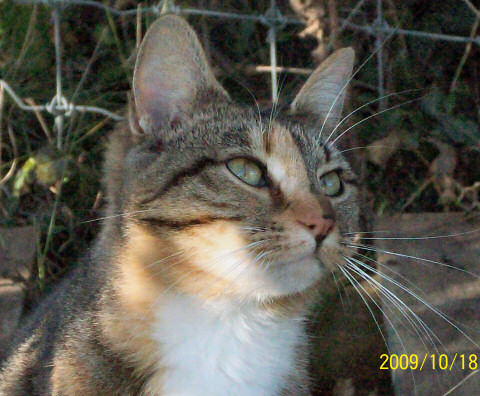 It isn't Goodbye, Wicked and we will never forget you.
We will see you someday at the Rainbow Bridge with Ares, Lucy and Annie and all of our other beloved pets who have sadly passed on before you.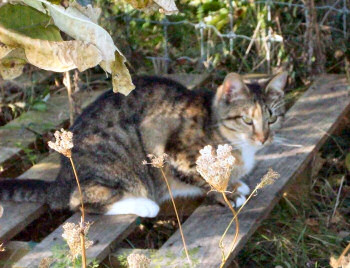 { back to pets }