Rest in Peace, our Sweet Lucy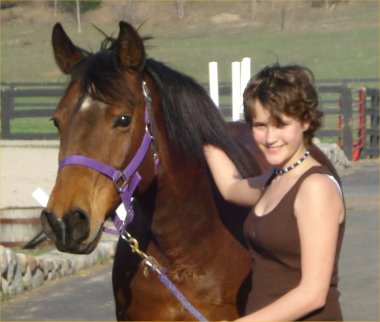 We are very sad to share the news of the passing of our beloved pony mare, Lucy, on Monday July 21, 2008.
During the course of a gastroscopy to find the cause of Lucy's recent weight loss and lethargy, an invasive and aggressive cancer was found in her stomach which was determined to be untreatable and incompatible with life.
Grace and Lucy spent a wonderful last day together grooming, braiding and riding in a nearby alfalfa field before Lucy was quietly relieved of her suffering in the sweet grass under a beautiful blue sky.
July 21, 2008
Our LuLu Bean, our Beany girl, our Lucy.
You're in the arms of the angels now.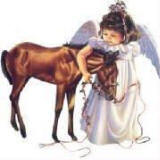 We love you, baby girl.
Angel by Sarah McLaughlin
Spend all your time waiting
for that second chance
For the break that will make it OK
There´s always some reason
to feel not good enough
And it´s hard at the end of the day
I need some distraction
or a beautiful release
Memories seep from my veins
Let me be empty
and weightless and maybe
I´ll find some peace tonight
In the arms of the Angel
far away from here
From this dark, cold hotel room,
and the endlessness that you feel
You are pulled from the wreckage
of your silent reverie
You´re in the arms of the Angel;
may you find
some comfort here
So tired of the straight line,
and everywhere you turn
There´s vultures and thieves at your back
The storm keeps on twisting,
you keep on building the lies
That make up for all that you lack
It don´t make no difference,
escape one last time
It´s easier to believe
In this sweet madness,
oh this glorious sadness
That brings me to my knees
In the arms of the Angel
far away from here
From this dark, cold hotel room,
and the endlessness that you feel
You are pulled from the wreckage
of your silent reverie
You´re in the arms of the Angel;
may you find
some comfort here