away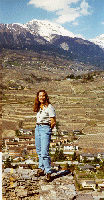 we love to travel and do so whenever we can get away. some of our trips resulted in complete web sites with stories and some are simply pictures, but all are fun to browse to remember the great times we've had and places we've visited.
laura's 20th high school reunion was scheduled for july 6th, so we decided to turn it into a vacation for the whole family. even the vicious pit bull got to go.
two fun visits with the family and the dog to the home of my favorite friend, dr. egon kamarasy.
story and photos from our march 2000 honeymoon. a complete vacation web site.
anthony and reina crews got married in cancun in july, and a bunch of us travelled together to the wedding. an online photo album.
michael and I took our first vacation together in the florida keys in february 1999. a complete vacation web site.