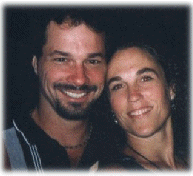 for those who have not already had the pleasure to view it, michael presented laura with a stunning diamond engagement ring in mid-november. it has an emerald-cut stone, set into a platinum band with gold accents and 1/3 c. of baguettes.
apres presentation of the ring, it was decided that a date should be the next order of business and we set ourselves to planning the perfect wedding day. michael wanted an evening wedding for 200 with dancing and revelry, laura wanted a morning wedding for 40 with champaign and quiet conversation. we were finally able to plan something right in the middle that we hope will accomodate everyone.
ceremony plans
we found a lovely church right in downtown des plaines for the ceremony which will take place at 1000am. the ceremony will be performed by dr. (reverend) grice, a very congenial and easy-going gentleman. our ceremony accompaniment will include a classical string trio of cello, viola and violin with personally selected pieces from handel, bach, vivaldi, froberg and mozart.
laura is taking the "something old" portion of the tradition seriously and will be wearing her mother's 37-year-old wedding gown. thanks to michael's mom for locating a great seamstress (although more zipper replacement than altering is being done - the gown fit like a glove from day one!)
as far as something new (and perhaps unexpected!), laura has custom-designed and ordered a veil over the Internet - sight unseen. michael's mother provided something blue in the form of a small blue heart that can be pinned to the inside of the dress.
laura's best friends sheila of sunnyvale california and jeff of wheeling illinois will be her attendants for the day, along with treasured sister-in-law tricia (wife of laura's younger brother paul d.) laura's daughters elaine and grace will of course serve enthusiastically as flower girls - they are greatly looking forward to covering the church floor with silky petals.
michael will be attended by his brother and best man, jeff, and his best friends tim and don. laura's brother paul d. will also be attending as usher and all-around honored organizer/helper.
reception plans
there will be a brunch buffet reception, featuring live jazz, to follow at the barn of barrington, starting at about 1130am through 400pm. there will be eggs benedict, carved turkey, ham and roast beef, and all of the other goodies you'd expect at a nice brunch. mimosas are on my list, I hope that they are on yours!
we are accomodating children under twelve and are thinking of bringing toys and coloring books. if you are planning on bringing your under-12 child(ren), please be sure to let us know on the response card.
the guest list is still not complete but it looks like we will be expecting about 160-180 people, including little ones. should be a heck of a breakfast.

wedding countdown
about the wedding
we used a web site called "the knot" to plan our wedding and it worked out really great. laura would not have known where to start or what needed to be done without it.
gifts
if you are inclined to purchase a little something, we are registered at both jc penney and crate & barrel. please ship your gifts directly. shipping information can be retrieved with the purchase of a gift from either registry. and thanks!
our jc penney gift registry
our crate & barrel gift registry
(hey! order online. laura would ;-)

honeymoon

well you won't believe it but we are definitely going on a honeymoon and we are definitely going ... to switzerland ! wow
we are very excited about this big, big trip. laura is already very busy taking care of the important items like european 220volt power converters, re-chargable batteries and downloading metric and swiss franc conversion programs into her palm IIIx.
travel plans include a direct flight to zurich from chicago o'hare and back. once there, we will forgo the usual rented car and opt instead for a rail pass. based on recommendations from laura's friend tracy, who lived in switzerland for a year or two, we will locate and enjoy the authentic people and culture of switzerland during our week-long vacation.
bon voyage!
our story
graphics by



fullmoon graphics