michael's mother elaine and laura's mother suzzett hosted a bridal shower for us at the hamlet restaurant on february 13, 2000. it was very overwhelming - the wonderful lunch, the overflowing tables of gifts and the tremendous grouping of family and friends who braved the snowstorm to be there.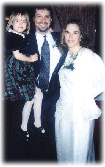 pursuant to tradition amongst the prowicz family, the bridal shower is attended by all of the female family members and friends, the bride and the groom. also according to tradition, the shower is supposed to be a surprise. in this case, however, it could not be since laura's best friend sheila had arrived by airplane especially for the event the friday evening before. even if she could keep a secret, which she can't, the two of us had to make arrangements for her trip a month before. but we pretended to be surprised anyway, even though we walked in dressed to the nines with sheila's gift in hand.
as far as the guests, many of michael's cousins and aunts were there, and many of elaine's friends. auntie fran, aunt harriet, cousin barbara mika, counsin-in-law (!) karen prowicz (married just this summer to michael's cousin david), and lots of ladies that we are looking forward to seeing more of at the wedding.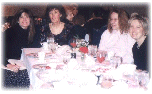 michael's sister-in-law, cj, spent the day helping out and snapping pictures. laura's maid of honor, sheila, kept track of the goings-on for the wedding album and kept a watchful eye on elaine and grace. laura's sister-in-law, tricia (also standing up at the wedding), recorded gifts with great diligence, dexterity and lovely handwriting! laura's riding partner, priscilla, kept the gifts organized and ready to load into the bronco at the conclusion of the luncheon. thanks to everybody who helped make the day's events transpire so smoothly!
the monday after the shower was valentine's day and michael suggested that we take the day off work to hang around and get our marriage license. we spent the evening listening to music and dancing in the living room sunday night. monday morning elaine and grace came to our house from school early. laura's mom and dad came to the house to watch the girls while we went out to get our license, and they gave us $30 to get some dinner. it was a nice day.
only one more month until the wedding!
more shower pictures

[ back to wedding ]
michael & laura
march 2000



wedding home