the kids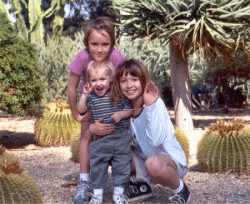 the photo at right is from the winter of 2002/2003. laura and all three kids went to visit auntie sheila in san diego for four days in december 2003. it was a great time for everybody!
in the fall the sisters, elaine and grace, started going to school near their dad's house. we miss having them here all week but the school they are attending is excellent - there was no other way to take advantage of the great opportunity for education. we make the most of the weekends though, we pick them up around 500pm on fridays and then head home for dinner and relaxing. on saturdays we go to the barn and ride dax and on sundays the girls have their riding lessons at the stables.
young master kane is growing and developing by leaps and bounds. in december 2002 he turned two (terrible two!) and we had a really fun party for him with a carosel, climbing tubes and balls, cake and ice cream and all of his family and friends. he is putting together sentances of two and three words and working on complete paragraphs now. puppy geeky is ever-present and kane is just learning to sleep through the night.
most of all, he loves his sisters and spending time with them. luckily the feeling is mutual ;-)
a web site just for elaine and grace (ages 9 and 8). now featuring photos from spring and summer 2002.
a web site for the master of the house, who arrived december 23, 2000. updated with photos from spring and summer 2002.
photos of our niece, baby jasmine rose, born july 25, 2000 to michael's brother jeff and his wife cj. I'm still waiting for mom cj to get going on a web site for jazzy! let's see if she takes the bait. ;-)
photos of our niece, baby taylor lynn, born to laura's brother paul and his wife tricia on oct 11, 2001. she is now almost one year old; she looks exactly like laura's brother paul.