baby jasmine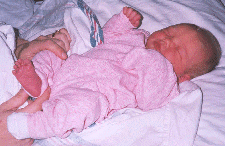 this is baby jasmine rose, who was born on july 25, 2000 at st. alexius hospital to our brother and sister-in-law, jeff and cj. she was 8 pounds, 12 ounces at birth and 21" long.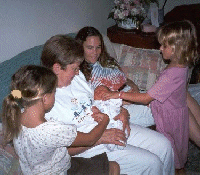 we visited baby jasmine at home the first time just a week after she was born. I was about four months pregnant and expecting her cousin on december 28, 2000. jeff and cj received a lot of wonderful flowers and gifts for the arrival of their baby. she is very sweet.
last weekend jasmine, jeff and cj came to visit. baby jasmine is 18 pounds already. she was wearing her tie-dye outfit that matches baby kane's.
baby jasmine photo album
{ back to kids }