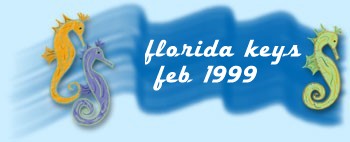 florida keys vacation, feb 1999
---
This year I took my very first winter vacation. And lucky me, Michael agreed to come along, even though we had only known each other for two months at the time I asked him ;-) It turned out to be pretty much the best vacation I ever had.
The Florida Keys are beautiful especially the further south you go. Since they are literally a set of linked islands in the Atlantic Ocean and the Gulf of Mexico, the further south you go, the further you are going into the middle of the ocean. It is about 127 miles from Miami Florida to Key West, the southermost tip of the US. Between Miami and Key West is nothing but fun, sun, clear skies, Tequiza, and great sunsets. [click here to view map]
It was about 80 degrees F and sunny every day we were there, except for about 3 hours of day one (Thursday). Aside from the last day (Sunday), that was the only day that we stayed in a hotel, electing instead to camp and roadtrip slowly the entire chain of islands. This turned out to be a great plan; having the tent and sleeping bags was a real boon once we found hotels to average $120/night and campsites only $45/night! Additionally since we had made no reservations for this vacation other than the actual plane tickets, it may have been a lot harder to find somewhere to stay had we not brought our hotel room with us in our carry-ons.
the M & L show goes on the road

---

Day one - arrive Miami 9pm, rent a car at VIP for $100/week & arrive Key Largo MM100 11pm
Day three - arrive Big Pine Key (Lower Keys) MM36 afternoon, skate 7-mile bridge to Pigeon Key (landmark) & camp Big Pine Key Fisherman's Lodge [ photos ]
Day four - visit Key West, skate historical district & southernmost beach; camp again at Big Pine Key Fisherman's Lodge [ photos ]
Day five - arrive Key West, secure hotel room at Key Lodge & do the evening tourist thing in the party zone [ photos ]
Day six - arrive Miami airport 5pm, miss plane (Laura thought it left at 530pm, it left at 500pm - whoops!!); arrive Chicago 9pm
Day seven - back to work. wwwaaaaa!
{ back to away }


view the trip photos


key links


our guestbook


prowicz family home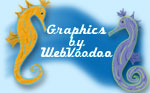 graphics by
webvoodoo

site designed for
800x600 resolution