wedding clothing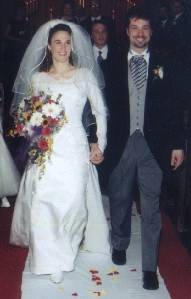 the bride
I wore my my mother's 1962 ivory silk and white lace applique wedding dress. after her wedding in 1962, mom had balled it up into a paper grocery bag and thrown it into the attic. she was shocked when she took it out and found that it had not be damaged in any way in its 38 years of storage. the seamstress said she had seen old wedding dresses that had been "preserved" by their owners at great cost years ago whose dresses were not in not nearly as good shape as mom's. I was thrilled to be able to wear it.
it was a full-length sheath with a sabrina neckline, long sleeves, an empire waist and it fit me perfectly, both in size and style. it had an ivory silk sweep train attached to the back of the dress just below the waist, with snaps and loops hidden underneath with which to create the bustle at the reception. it had taken the seamstress the past eight weeks to adjust the hem, repair all of the ivory pearls and lace and replace the hidden zipper in the back. she said she had not seen as beautiful and unique a dress in many years. it had just returned from the cleaners and a final steam pressing that thursday night - the finished product was breathtaking.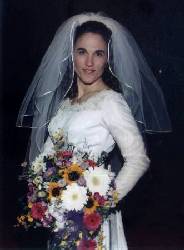 my hair was all in curls, with just the bangs pulled back and the veils on top. the veils were ivory with ivory satin-corded edging and double-layered as 24" and 29". they were attached to a long hair comb covered with ivory pearls and glittering austrian crystal beads. I had ordered the veil on the Internet (bridal headpieces by laura) and it had just arrived on time and in the mail two weeks before the wedding. laura was responsible for ensuring the perfect match between the hair comb I had selected from her collection, the veils and my vintage dress, which she then created herself as a custom order for me.
my shoes were ivory satin mules with a sequined band and we had attached a small blue heart to one of them, which hung from the instep ("something blue"). the shoes were a real bargain, found on sale at JCPenney for $25.00 in the evening shoes selection. sheila had lent me her lovely drop pearl earrings ("something borrowed") and I carried a small ivory silk and sequin purse with a matching envelope bag.
the flowers, provided by a grand flower shop in franklin park, illinois, were a mix of seasonal favorites and wildflowers. included were purple, pink and white gerber daisies, three sunflowers (which mean "adoration" - therefore one each for michael, elaine and grace), and small yellow, white and purple wildflowers. lush green ivy and purple tulling arranged with the flowers in a modified nosegay/cascade created the perfect effect.
the groom
michael chose the ultra-formal morning suit, which included a dark grey cutaway jacket and dove grey vest and striped trousers. this was paired with a white wing-collared shirt, a striped ascot tie and shining black shoes. the men wore small daisy boutonnieres in their lapels.
all of the men's clothing was selected at gingiss formalwear and they did a great job getting everything correct and ready on time.
the flower girls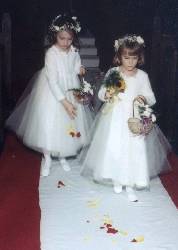 elaine and grace wore white velvet, full-length dresses with small pink flowers at the neckline. their skirts had multiple layers of white tulling which they both managed to keep in one piece through the end of the ceremony (grace had ripped a whole layer of her skirt by the time we got to the reception, which then had to be tied like a tail behind her).
they wore white tights and ballerina slippers. grandma had taken them to the hairdressers that morning and elaine had her hair done exactly like mine in big curls with her bangs pulled back.
they both wore floral wreaths of baby's breath and small purple wildflowers. they carried small gold baskets of yellow and red rose petals which they carefully placed along the aisle before and after the ceremony.
the bride and groom's attendents
both of the ladies, tricia, my sister-in-law, and sheila, my best friend and maid of honor, selected their own dresses and purchased them independently. they each selected a full length taffeta dress in deep purple. sheila's dress included capped sleeves and a bolero jacket with sequins and tricia's a low and sexy back.
all of the men, including the fathers and my brother paul, who was an usher, the reception announcer and all-around organizer guy for the wedding day, dressed as the groom but wore a striped tie instead of an ascot.
{ back to nups }