The Prowicz Family garden is made up of mostly perennials and almost 100% native plants, using seed cultured from our local area in Northern Illinois.
How we purchase and start our prairie plants
Some of the vendors we like, for prairie plants (both bare-root and potted) and seeds are listed below.
This is our first year gardening our current property (for various and sundry reasons); the garden in our previous home in Des Plaines was extensive.
This year, since the garden is brand new and we started in spring, we purchased most of our plants as potted and bare-root. A lot of the shopping was done online during the early spring, since the native nurseries sell out fast and only ship during the spring and fall in order to accomodate the rhythms of the plants. Bare-root plants, especially, are shipped in very early spring when they are still dormant so ordering and shipping time are critical.
Many of the native plant nurseries do not accept visitors except on very limited schedules. So once we placed our orders for the plants we "knew" we wanted, we also made sure to put the Citizens for Conservation native plant sale on our calendar and to take the big truck and a blank check to their yearly May sale. We weren't able to also make the Kane County Wild Ones plant sale as it was the same weekend (first weekend in May.)
Kane and I discovered the Wasco Nursery in St. Charles in early May and have visited there several times this season to pick up things to fill "holes" in the garden. We selected most of our shade plants there and some sun plants as well as a very large wet-loving shrub (Aronia melanocarpa 'Morton' IROQUOIS BEAUTY) for by the pond for only $35.
First and foremost: Wasco Nursery sells native plants grown locally by Natural Garden Natives in a special section. Secondly: They also have an excellent pond section, occupied mostly by Aquascapes (a professional pond building organization in the Chicagoland area), with lots of pond plants, fish and even bullfrog tadpoles (now you know why Kane loves going there!)
When we purchase seeds, we germinate them ourselves in a really simple way using nature. We use a process called "winter sowing" which basically entails sowing the seed into casserole-sized containers full of moist soil in the late fall or early winter, covering and venting them, and then leaving them outside in the weather until spring. That's when you walk outside one day expecting to find large platters full of dirt and find little tiny baby plants instead. What a great thing after a long Chicago area winter.
We will be posting more about our garden as the season progresses, including photos and interesting activities or events on our blog, "random ramblings from the webmistress". Please visit our blog and leave a comment (using your Facebook account.)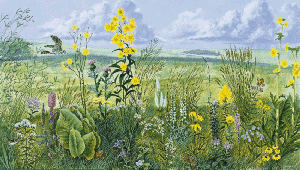 a midwest prairie in summer
click to read about the origins of our prairie garden
{ back to @home }