gardening !! spring 2002
this is the first spring that we have actually owned our house. last spring we spent leading up to the purchase of our house: negotiating the price, agreeing to terms, setting up financing and the closing. the process had actually started right after kane was born in december 2000 with our first attempts to get "pre-approved" for a loan. one thing that we learned about buying a house - it's a long process that cannot be rushed. there is seemingly always "one more thing" that needs to done, "one more person" who needs to inspect "something" to get "some paperwork" into the process; closing drags on for weeks and weeks even after the price and terms are agreed upon.
after the closing was finally complete on april 20, 2001 and having a very small baby to attend to, we were not excited about getting out into the yard to do anything about the sad condition it was in. thus we lived all last spring, summer and fall in our barren and hopeless yard. we hope to turn it all around this year.
activities started out over the winter of 2001/2002 with laura learning about backyard habitats after a visit to the peggy notebaert nature museum on canon drive in chicago with the girls on a day off from work.
in addition to having a great time spending a long lazy day with the girls, taking the train to the city, eating bagels at the corner bakery, sushi for lunch and walking through the city, the nature museum was fabulous! we especially liked the butterfly habitat and the wilderness walk. the museum also has a prairie restoration going on outside with a lovely walking path. the girls naturally wanted souvenirs after our visit (they always do!) and mommy picked one up for herself. it was a book called "creating small habitats for wildlife in your garden".
before reading this book, I had no idea that there was such a thing as creating backyard wildlife habitats or that it was even possible to attract wildlife to a yard like ours, so close to the world's busiest airport and the city of chicago. now of course I realize that due to the enormous loss of habitat in my area, it's really all the more important that we do so!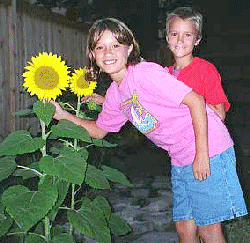 to start out, we are creating several different beds of native prairie plants and a pond. we have also placed new bird feeders and a bird bath in various locations around the property. we haven't really started to try to connect all of these items into one cohesive plan yet but will once we get to a point of having something to work with. up till now, the yard was basically completely barren and featureless. we are not creative enough to go directly to the end result from nothing; we are hoping that our initial start will generate more ideas and concepts for pulling everything together later.
so far, our efforts have really paid off. we have twenty times more birds than I have ever seen in our yard and the sounds of their calls and songs are great to listen to. we had no idea what we were missing! the yard is already much nicer to hang out in; it will be even better when the pond is done. for details and photos, please visit the new prowicz family garden web site.
{ back to @home }