sisters & mom camping in tennessee
july/august 1999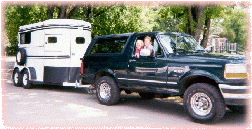 earlier this year, mommy bought a very nice and new horse trailer for our horse, dax, and needed to visit walnut creek trailers in shelbyville, tennessee to pick it up.
we left from home on the day after mommy gave herself a huge black eye with the tire iron. we left very early in the morning on thursday and drove all day until we finally got to henry horton state park around 9pm at night. it was still very hot when we got there. we set up our tent in the dark and fell asleep right away.
it stayed 105 degrees F the entire three days
the ranger station at the state park was really cool with a live bunny, mounted insects and spiders, a stuffed owl and other neato things to look at and touch.
we got to walk around the camp by ourselves, to go to the bathroom, to fill the water bottles and to play on the jungle gym on the front lawn. we played on the jungle gym every night after dinner. mommy took us out for mexican food one night.
we went to the pool every day. mom swam with us and played mommy dolphin. grace went off the diving board for the very first time at henry horton state park.
we were very good in the truck all of the way there and all of the way back, 10 hours each way.
view the trip photos
{ back to sisters }
elaine & grace cizma
chicago, illinois