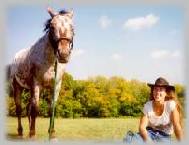 ---
queeny park
sept 1999

dax's stuff
Background courtesy
Destiny's Lady
Totem Bird courtesy
Bearchele, Inc.
Bright Vaquero
(aka Dax)

in november of 1997 I became the proud owner of my appaloosa horse and first horse of my own since I was sixteen. since owning dax I have realized first-hand the special nature of this wonderful breed - their affection, their intelligence and willingness to learn.

I had not known anything about the appaloosa until owning dax and ordering many great books on them from amazon.com. I was impressed at how dax took to training at such a young age (5 years old) with virtually no training prior to me purchasing him. he had been started by his previous owner, backed a few times, but the majority of his training has been done by myself
1999 eventing update
this year dax and I endeavored to move forward into novice, uscta-sanctioned events even though we were still placing last in the little mini-events last season. what a difference! dax was actually eager and ready to compete, successfully negotiating five different novice-level cross-country courses in 1999 (fox river valley mini, and fox river valley, idcta, silverwood and queeny park horse trials). maybe it's the fact that the jumps are actually JUMPS as opposed to little bumps in the trail, or maybe this stuff is finally sinking in. whatever the reason, he is doing it!
Q. What is eventing?
A. Jump to the Official United States Combined Training Association web site and press "Eventing" for a good summary of what this sport is all about.
we have been taking almost-weekly eventing lessons with jennifer bazan of mchenry, illinois and monthly clinics with sonya crampton of the canadian equestrian team. both have been fabulous for increasing dax' and my confidence in jumping - I highly recommend lessons to anyone trying to train his or her own horse for this reason. you just can't do it all without a good pair of knowledgable eyes on the ground, at least once in a while.
we concluded our eventing season this year with a visit to st. louis and the queeny park horse trial, where we were eliminated at the water jump. there's our training agenda for the winter! I have decided to move up to training next season, provided dax loses the extra 100lbs he has gained and that our jumping and dressage improve about 20%. we still need to work on dressage with klaus and hopefully will be going back to him this winter, and on staying quiet and relaxed over fences. also I need to work on a better release.
[view event photos]

new horse trailer! from shelbyville, tennessee
it's a bee horse trailer from georgia. I found the dealer, walnut valley trailers, on the internet and was able to reach a good agreement with him on price and features. after a long struggle with financing, my trailer was custom-created for dax and the girls and I took the opportunity to do a little camping in tennesee during the heat wave of july 1999
[check out the rig ! photos are here]