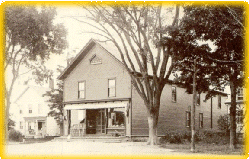 ---
shaftsbury general store in the early 1900's

family reunion in vermont - july 1998
[view online photo album]
This july myself and my mom and dad, elaine and grace, and my brother paul and his wife tricia travelled to vermont for our first family reunion.
I grew up in vermont from when I was about 9 years old until when I was 16 years old. My mom and dad practically had to drag me kicking and screaming to Chicago. Once I got out of high school in Barrington and started college, I was fine, but up until that time not all was roses in Chicago.
Suffice it to say I have great memories of my life in Bennington Vermont. I still miss it there to this day.
We had a great time visiting with all of our family and I still had several friends in town, too. Willene, my aunt (mother's sister), took me to her barn and we attended some horsey seminars and met a lot of nice horse people. I had riding lessons with my old trainers from when I lived there. I spent a lot of time at the pool hanging out with the kids, elaine and grace.
Finally Saturday was the big day for the reunion and almost everyone was there. My cousins, aunts and uncles from Pownal and New York, grandpa and his family from new bedford, massachusetts and mom's best friend Aunt Patty and her husband Uncle Stash and their kids and grandkids. It was a great day.
View our online photo album. Also, a few general pictures from the trip are thrown in for good measure.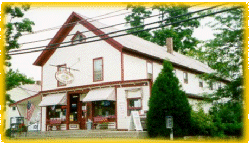 ---
shaftsbury general store in 1998