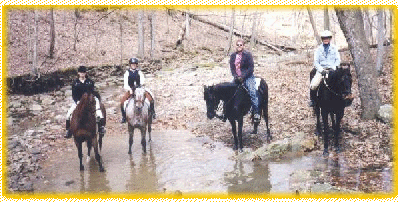 ---
From left, Heather, Laura, David and Egon
click here for more photos

spring break 1998 - carbondale

In late March of this year (1998), my boyfriend, David, and I and my riding partner, Heather Howard, decided to visit Egon Kamarasy's Egret Lake Farm in Carbondale and do a little riding for spring break. Considering that it was at the time about 40 degrees F in Chicago, we were hoping against hope that travelling 350 miles south would bring good, warm weather. We were not disappointed!

Naturally, we wanted to take our horses, Dax (mine) and Jeunesse (Heather's). We also decided to take a horse for David to ride, and so had his mother deliver her Tennessee Walker, Dancin, to us when she brought the truck and trailer to Arlington Heights for us to pick up.

We made arrangements at our stable, Morton Grove Equestrian Center, to be gone for a week and to get all of the rations we would need. During the month of preparations in March, some unfortunate circumstances congealed that decided for us that we would not return to the stable when we got back from our trip. So long about mid-March, we found ourselves a new farm in Barrington Hills and put our downpayments on two stalls for our return.

The day before our trip, we gathered all of our rations, our tacktrunks and tack and packed the trailer. On Saturday morning at 730am, we headed with glee to Carbondale and Egret Lake Farm, Egon's place.

Saturday we didn't ride, just a big tour of Egon's 40 horses spread out over four different pastures. Sunday we rode at the Boskeydell riding center, a place I fondly remembered from my college days when I rode Criterion for Egon. I think Egon wanted to make sure that my broken ribs (just broken five days prior!) were going to hold up with me riding.

Great broken rib story - Sunday morning I got up before everyone else and headed from the house down to the pasture where the horses were being put up. It was really really muddy down there, it had rained straight for something like three weeks. Since we had been driving all day Saturday to get to Carbondale, I needed a shower and to get some clean clothes going. So I had somehow pulled myself out of bed (not easy with broken ribs), gotten all fresh, had my coffee, and made my way down to the horses.

So there I was, all clean and bright. Feeling good. I slopped through the mud and got my horse and headed to the barn. We had just crossed through the first gate and I turned around to pull it shut behind us. When suddenly, my boot got sucked into the mud as I turned my body and I realized that I was loosing my balance. My foot was pulled out of the boot, which was by then obviously stuck in about a foot of mud, and I could not do a darn thing about it. With broken ribs, there was nothing to do but let it happen. And happen it did, right onto my ass I went into the mud. To add insult to injury, with nothing to hold onto, I had no way to get up. I was frozen in place by my injury with Dax staring at me (what are you doing down there?) until someone finally heard me calling and came to rescue me. So much for clean clothes and clean hair.

The weekend evenings began a ceremony we kept to all week, with Egon presiding over dinner and filling our eager minds with horse lore gained from over 60 years of riding experience. Heather and I would stare enraptured at Egon, asking questions and egging him on while David grew increasingly bored until he would finally excuse himself. It was great!

Monday and Tuesday we rode along my old haunts around Egon's - Cedar Lake and trail blazing through the woods and ravines near the farm. We had a jumping lesson which I was not allowed to join because of my ribs. Monday morning Heather rode one of Egon's horses, Gentle Giant (aka Bobby) because her horse had lost a shoe that morning. Then again Tuesday also so that she could save her horse for her first cross-country school that afternoon.

Wednesday we headed off to the Hunt country, down in the Shawnee National Forest and had the most amazing ride. We spent about four hours scouting the territory down there and cantering through the woods, over logs and trees, and fording streams.

It was a great way to spend a spring break.
view our online trip pix