Egret Lake Farm

Egon Kamarasy
474 Egret Lake Road
Carbondale, Illinois 62901
Phone (618)457-6167 Fax (618)457-7834
email egretlake@msn.com

Welcome to Egret Lake Farm
Welcome to Egret Lake Farm, home of over thirty european warmblood (Hungarian, Trakehner, Shagya), Hunter and Event Horses for sale.
Egret Lake Farm offers an enticing selection of hungarian, eventing and hunter horses for sale. In our sale pages you will see photos of our horses which are regularly ridden in different phases of training.
We provide videotape to qualified buyers.
Our web site was last updated on June 15, 2005
About our Horses
I am Dr. Egon Kamarasy, your host.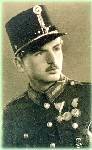 As a Lieutenant in the Royal Hungarian Army, I served under Lt. Colonel Agoston Endrody, Olympic event rider, and later organizer of the Badminton Event. We became life long friends. You may have read his book : Give Your Horse a Chance.
Giving horses a chance is what we are doing here. And as we have the type of horses Col. Endrody wrote about, it is most appropriate to use the Endrody method in training our horses. We, and our customers from Vancouver to Miami, like the results.
We are located in Carbondale, in hilly Southern Illinois and feel privileged to hunt with the nearby Wolf Creek and Shawnee Foxhunts.

Come, visit and hunt with us!

Maps and directions to Egret Lake Farm are available. Please call us if you need more details.
This is a great time to buy a horse!
CALL TODAY FOR SPECIAL PRICING
Horses for Sale

Member of the Hungarian Horse Association.
Sale List is current as of June 15, 2005
Please let us know (egretlake@msn.com) if you are interested in any of our horses
- we provide videotape to qualified buyers.