Greetings from Hungary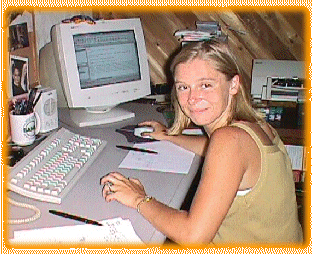 Here's our website! Isn't it fun?
If you didn't know…we have packed up our lives, stored most of it, and moved to Budapest, Hungary. Heather is teaching high school mathematics at the American International School of Budapest, while Randy is taking care of our son, Fletcher.
We got married on June 9, 1998 in the Rose Garden in Evanston. The ceremony was performed by Unitarian minister Ann Tyndell and witnessed by friends Erika and Mike Erhart. It rained all day, but was a beautiful ceremony anyway.
On September 26, we had a baby boy named Fletcher Howard Hackbert. Check him out!
Thank you for coming to our website to visit us. We would love to receive email if you have nice things to say. Anyone ready for a trip to Hungary? We are ready for visitors. Thanks to Laura and Dax for making this possible! Be good.
---
Send us email!
Randy & Heather
trouble@pronet.hu