Thanks Michael for the Beautiful Bouquet
* you continue to make me feel worth the effort ;-)
These are just quick pix I took using the webcam in our offices. Tommorrow I'll bring my digital camera and take some really good ones. I can't take the bouquet home today on the el - too many people - I don't want to lose the pleasure of enjoying them on my desk for as long as possible.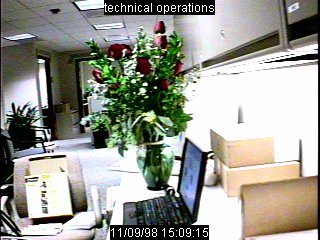 far away view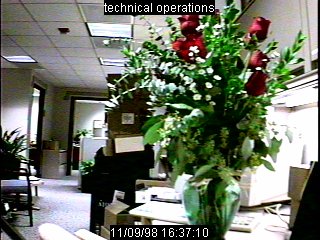 closer view
You can't see them, but there are three huge IBM Netfinity servers in the background and all around the roses. Talk about mixing work and pleasure. Of course I have several guys here working on & supporting the server installation and I am loving showing them off.
Thank you!!!!! You are such a man - you amaze me daily.
Red roses red roses - what a lovely Monday I'm having. I'll be thanking you more personally tommorrow. Have a great night & I'll see you tommorrow.