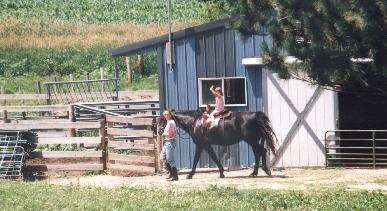 ---
Elaine on Dancin - July 1997

carbondale august 1997
For anyone following my saga, I have given in completely to horse fever once again. Above is a photo of Donna Coss' barn where we keep Noble; that's me walking her Tennesse Walker Dancin' with my four-year-old Elaine on board.
I have just completed the scariest part of training our pony, Noble, the Welsh that we adopted back in November 1996. Yes I've finally ridden him! Read this story in my pets area.
Our meeting with Egon down in Carbondale went well, with Jody, Tara and Donna and myself all driving down to visit him in June. Egon was a gracious host, as always, and showed us his unbelievable horses from Hungary and other parts. His stallion, Bold Bravo, is a Shagya purebred and Jody decided then and there to breed her Arabian to him. Egon has a few pure Shagya's but mostly crossbreds with Thoroughbred, Trakehner, and other quality horses.
We did a little riding, with me up again on Fox, the Thoroughbred that took me for the ride of my life the summer of 1996 when I visited Egon with my boyfriend, David on our way to Tennesse to backpack. We jumped and rode a little dressage and I looked at his sale horses, hoping he would make me a deal on something nice that I could use to event. Not this trip - maybe next time!
Egon introduced us to his Shagya network of horse people and Donna was able subsequently to make a nice trade on her new trailer for two Shagya mares AND a stallion (one of only five in the US). We should be getting the horses sometime late September and have lots to do at the barn before we're ready, including building a stallion barn with fencing, putting in our dressage ring and generally reconfiguring all of the fencing in the pastures.
We built a nice web site for Egon's farm, Egret Lake, and he was able to get some leads on his horses for sale within a week of his site going up! I've been doing a lot of horse sites lately and am really interested in doing a classifieds system for horses as I can't seem to find any really useful on the Internet.
Future plans on the horses include making our barn a professional stable for Shagya breeding and training (I am hoping to ride the stallion next year in dressage or eventing), getting Noble ready for Pony Club, and moving out of the city for the Freeport area where Donna's farm is.
Let you know how that goes!